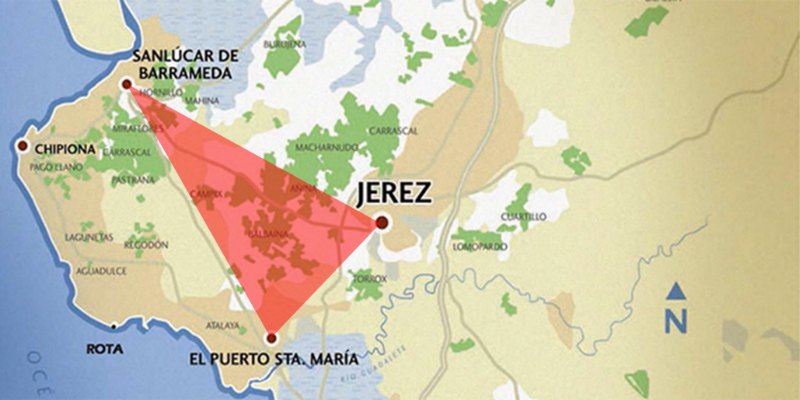 The production of sherry is centred around the town of Jerez de la Frontera in Andulacia in south west Spain. Within the Jerez DO (Denominacion de Origen) there are 3 centres for the maturation of sherry (known as the 'Sherry Triangle') Jerez de Fronterra, Sanlucar de Barrameda and Puerto de Santa Maria. Each of which imparts slightly different qualities on the wines.
In principal there are initially two styles of sherry; pale, dry Fino (or in Sanlucar de Barrameda – Manzanilla) which ages under the influence of Flor, a film of yeast that grows on the surface of the wine and acts as a protective barrier; and dark, full dry Oloroso.
All commercial styles of sherry, Fino, Manzanilla, Amontillado, Oloroso are derived from these two principal styles. Pedo Ximenez  (or PX for short!) made from the grape variety of the same name, is an intensely sweet wines which can also be used for blending as with Lustau's East India Solera where 20% is added.
A Sherry Solera consists of a number of groups of Butts (barrels) each of which is known as as Criadera. Wine is taken from the group of the oldest wine, which is itself called the solera. This in turn is replenished from the butts that form the first criadera which is in turn replenished by wine from the second criadera and so on; a process known as running the scales. The more complex soleras may run to as many as 14 criadera although most are made of only 3 or 4. The whole system is fed with new wine from the most recent harvest. Up to 33% of the wine in a solera may be withdrawn in any one year.
Fino sherry is a dry white wine made from Palomino grapes which as in the case with Manzanilla sherry is aged under a layer of yeasts which make up a veil or Flor. It is stored and aged in American oak butts using the traditional solera y cricaderas system in the bodegas of Jerez de la Frontera and El Puerto de Sana Maria (as is the case with tis Lustau ' Puerto' Fino).
Bright, pale golden in colour, sharp delicate aromas, hints of almonds, fresh bread and herbs and a touch saline.
Manzanilla Sherry is a dry white wine made from Palomino grapes and aged under a layers of flor as with a Fino. However, it is produced exclusively in the bodegas of Sanlucar de Barrameda. The special climatic conditions of the town, situated at the mouth of the rive Guadalquivir, favour the formation of a specific type of  'flor' which gives the wines their distinctive characteristics. What has become more popular is Manzanilla 'En Rama' where the wine is bottled straight from cask without fining or filtering and takes on a more yellow hue and intense floral flavours, camomile, almonds and freshly baked bread.
Oloroso Sherry is a dry wine made from Palomino grapes. Due to the special structure it displays from the earliest stages, wine masters tend to choose an oxidatice process for maturing. By  adding alcohol to a level of 17 o vol. the development of flor is prevented and the wine is aged and exposed to oxygen. The result is a highly structured and complex wine.
It displays a range of amber colours to mahogany, the more extended the ageing process the darker it becomes. Lovely warm complex and compelling on the nose with dried fruits and spices, dried leaves, leathery aromas.
Amontillado Sherry is highly distinctive wines because its ageing process combines the flor process which is characteristic with a Fino or Manzanilla, with a later stage in which the flor disappears and the wine is exposed to oxygen. Made from the Palomino grapes its combined ageing process makes Amontillado and extraordinary complex and interesting wine.
Subtle and delicate aromas with nutty and floral notes, spices and dried herbs.
Promotional offer on Lustau Sherries
Lustau Puerto Fino – down from £13.95 to £12.95
Click to buy
Lustau Don Oloroso – down from £15.95 to £12.95
Click to buy
Lustau Solera East India – down from £18.95 to £15.95
Click to buy
Lustau St. Emilin Moscatel 37.5cl – down from £10.95 to £9.95
Click to buy